TRUSTED BY THE WORLD'S BEST
STEP INTO YOUR POWER WITH OUR WOMEN IN LEADERSHIP COMMUNICATION TRAINING
Discover The Secrets Of Todays' Most Successful Women In Business
Female business leaders are scarce at the moment, but history shows women prove to be powerful leaders and change makers. Let's close the gender gap, once and for all! Female leadership is truly the future of modern business. Championed by our inspiring founder and CEO Fia Fasbinder, Women in Business Communication Training is an empowering, growth-centric workshop, created for women in business by women in business.
Our women's leadership program focuses on fostering practical and sophisticated verbal and non-verbal communication strategies that will earn you more respect, income, authority and the right kind of attention. If you're looking for a training that provides development tools for women in leadership, Moxie's program will give you confidence and power to overcome almost any challenge. Dive into our advanced training that's intense, insightful and hands on.
MASTER POWERFUL COMMUNICATION &
EXECUTIVE PRESENCE SKILLS for women in leadership
Harness the power of presentation and performance for greater influence and impact with Moxie's women's empowerment course.
The world needs more female professionals, and with Moxie's Women in Leadership course, we know you can become one! You'll develop powerful communication skills, and have more confidence and control for any situation from everyday meetings through to high-stakes projects. Extend greater influence across teams and departments to ensure your voice is heard and your ideas are put into action.
OUR WOMEN IN LEADERSHIP

TRAINING TOPICS
Primacy Effect: Master the art of first impressions.
Confidence Games: Act like you own the room, because you do.
Crowd Control: Make any group hang on your every word.
Go with the Flow: Learn techniques to stay calm.
Take the Reins: Make the most of these strategies in your work.
WOMEN In LEADERSHIP PROGRAM
* Note: All training content is tailored to your team and delivered live. Virtual lesson recordings can be made available on request.
SOME OF OUR EXPERT SPEAKER COACHES
As an international corporate trainer and facilitator, she transforms boring and jargon filled content into entertaining and effective presentations. She teaches corporate professionals proven strategies and tactics to transform communication skills.
Chris is an expert in leadership and communications who thrives on sharing what she's learned to help others grow. She's taught workshops around the world at blue chip companies (including Abbott Labs, eBay, PayPal, CVS, International Paper, Dolby, Lenovo, Intel, and more)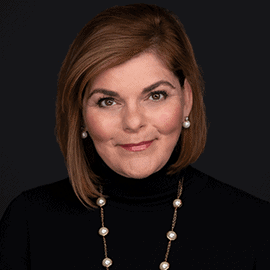 Karen is an Emmy award-winning broadcast journalist, corporate communications professional and executive coach working with CEO's and C-level executives at leading companies around the world. Karen specializes in helping senior executives develop the leadership and communication skills
WHAT YOU'LL MASTER

IN OUR WOMEN IN LEADERSHIP WORKSHOP
Be concise and assertive, deliver messages with confidence and conviction.
Act with authority; be poised, bold, command respect and master every speaking moment.
Stand out, wield influence and make a lasting impact on any audience.
PRESENT A POWERFUL PROFESSIONAL IMAGE
Executive presence–it's what 90% of CEOs want in their next leaders and managers.
Conquer stress and pressure, differentiate yourself, and leverage your strengths as a woman.
Create a dynamic first impression, and be seen as the authority. You got this!
TAKE THE FIRST STEP TODAY

HAVE QUESTIONS? WE CAN HELP!
Leading Executives Rely on us

For our methodologies and approach.
You Don't To Be Great To Get Going.
But, You Have To Get Going To Be Great!